Discover more from Pamela J. Hobart: Philosophical Life Coaching
I've moved, find me at https://www.pamelajhobart.com/subscribe/
First Annual Report
The Life Coach for Smart People is one year old!
Happy birthday to me! I launched my philosophical life coaching practice one year ago.
Working from home while parenting full-time has been nothing short of brutal these past 8 weeks, and I could use this boost of motivation from surveying my business's infancy.
I also hope there is something potentially educational or illuminating in here for the entrepreneurial among you.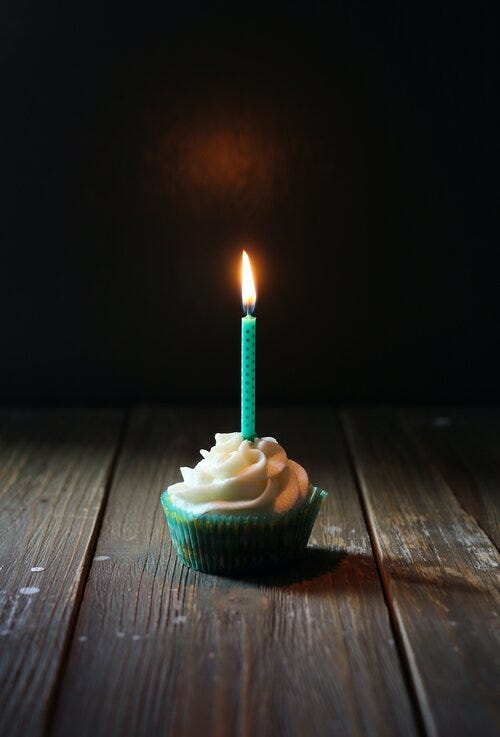 When I first hung up my shingle, I had tired of opportunistically accepting one incoherent work opportunity after another (I was also 8+ months pregnant…)
I wanted to offer something of very specific interest to the world, without watering myself down or feeling forced to accept conventional business advice & practices. (Full disclosure: I also enjoy the benefits of non-primary-breadwinner status in our household).
Naturally, this first year has contained a variety of ups and downs. I've made many mistakes, both substantive coaching mistakes and business-type mistakes. I have lots left to learn.
But overall, I feel validated in my approach to philosophical life coaching and determined to turn my early successes into self-employment for the long haul.
Strategy: The Paid Intro Session
From the start, I planned to avoid doing tons and tons of coaching for free.
I'm convinced the paid intro call has been critical to my success so far. Why?
I don't have the time to do free calls

Free calls invite tire-kickers who aren't actually willing to spend money

A reasonably-priced intro call offers a way for people who can't afford ongoing coaching to get a bit unstuck, without either one of you feeling like you've wasted the other's time

Although a paid intro session deters some prospective clients, it means the ones who show up at my door are very well qualified
My reduced-rate intro session is called the "False Belief Fix-Up" ($75 for ~40 minutes). I sell about 2 of these per month. Nearly half of intro rate clients return for at least one full-priced session.
When new clients buy the intro session, they're sent to a Google Form of intro questions. I don't think these questions are particularly special, but many remark that just filling out the questionnaire helps them. Great way to get started on the right foot!
Before the intro session takes place, I read the questionnaire answers and come up with a few followup questions for the client. This makes the intro session really pack a punch despite its <1hr length - the client can see right away what working with me would be like.
My goal is for every client to leave their intro session with at least one area for introspection/experimentation. So even if we never speak again, I've been useful to them.
Email Coaching
Email clients pay up front via a checkout that's always open, and mostly these have been people who I do not know at all prior to their signup.
I have some clients doing hybrid phone & email engagements, having come in either via the paid intro call or email. One call per month with email support throughout is a useful option for people who like the personal nature of speaking, but who also want the ongoing accountability & structure that a coach can provide.
Paid Newsletter
I recently launched "Questions for Smart People" as a paid tier of subscription on top of my ordinary free emails. I send weekly prompts for thought each Sunday morning.
I'm planning to begin weekly "office hours" for all paid subscribers soon. Plus the highest tier of paid subscription is like email coaching lite / interactive journaling - if the client sends their reflections on the prompt to me, I'll write them back.
Marketing
I don't market much - just some irregular blogging, aspirationally-weekly email newsletters to my small list, and continuous tweeting that is far from professional.
When paid childcare becomes available again, I'll ramp up marketing to fill my new capacity. For now, the stream of clients my haphazard marketing produces works great.
How About Some Numbers:
First year gross revenue: $13,740
Operating expenses (credit card processing, Squarespace, domain): ~$500
Phone & video sessions: 110 (current rate $125/hr, was lower previously)
Client-months of coaching & convo by email: 32 (current rate $200/month, was lower previously)
Paid intro sessions: 22 (at $75 intro price)
Percent of intro sessions converted into client with at least one full-price session: 45% (10)
Email list subscribers: 298
Year 2
I had hoped to systematize my blogging & email newsletters & social media this spring, but that's gone to hell.
The new strategy is just to stay the course! So far, so good.
Thank you for your readership, patronage, and moral support.
Pamela J. Hobart, The Life Coach for Smart People